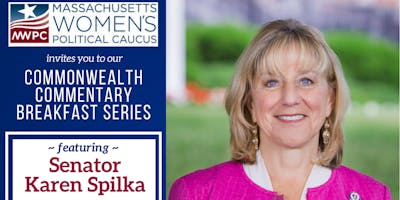 Commonwealth Commentary with Senator Karen Spilka
Senator Karen E. Spilka is the State Senator for the 2nd Middlesex and Norfolk district, which includes the towns of Ashland, Framingham, Franklin, Holliston, Hopkinton, Medway and Natick in the MetroWest region of Massachusetts. She serves as the Chair of the Senate Committee on Ways and Means, the committee that oversees the budget and finances of the Commonwealth. She also chairs the Tech Hub Caucus. Senator Spilka's legislative accomplishments include efforts in a broad range of areas including economic development, jobs creation, education, juvenile justice and services for the elderly and disabled communities.
Senator Spilka is a graduate of Northeastern Law School and holds a B.S. from Cornell University. She has been married for over thirty years to Joel S. Loitherstein, an environmental engineer, and has three children and one dog.
The Commonwealth Commentary, sponsored by Blue Cross Blue Shield of MA, is a breakfast series held three times a year. It is designed to provide women and men of all ages with information and resources they need for effective civic engagement and to provoke valuable discourse around the status of women in politics and public policy.
Past speakers have talked about their lives before running for office and their journey pursuing an elected position. Our most recent keynote speakers include Health Care Policy Analyst Sarah Sabshon, State Representative Juana Matias, Secretary of Health and Human Services Marylou Sudders, State Senator Jennifer Flanagan and State Representative Kate Hogan. Attorney General Martha Coakley, Congresswoman Niki Tsongas, City Council President Michelle Wu, Suffolk County Sheriff Andrea Cabral and many other women have participated in years past.
Thank you for being a part in this continued legacy! We appreciate your support.