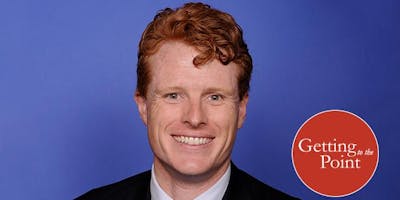 Getting to the Point with Congressman Joe Kennedy III
Congressman Joe Kennedy III will visit the Institute for a wide-ranging conversation on issues facing our communities today. Congressman Kennedy is in his third term representing the Fourth District of Massachusetts in Congress. He is a member of the House Energy and Commerce Committee, where he focuses on issues like mental health, energy costs, manufacturing, and STEM education.
A breakfast will precede the program.
ABOUT THE EDWARD M. KENNEDY INSTITUTE FOR THE UNITED STATES SENATE
The Edward M. Kennedy Institute for the United States Senate is dedicated to educating the public about the important role of the Senate in our government, encouraging participatory democracy, invigorating civil discourse, and inspiring the next generation of citizens and leaders to engage in the civic life of their communities.
REGISTRATION & SEATING
Registration opens no earlier than 7:30 AM and seating is first-come, first-served. Registration and doors close 15 minutes after the start of the program. Some seats have obstructed views.
ACCESSIBILITY
The Edward M. Kennedy Institute strives to meet the needs of and be accessible to all of their visitors. We offer several options for assistance to visitors as listed on this page. Please reply to programs@emkinstitute.org as promptly as possible to request Communication Access services.
PHOTOGRAPHY
The Edward M. Kennedy Institute frequently engages in photographing and recording programs and events for its own documentation and promotional purposes. Please notify a staff member or volunteer if you do not wish to be photographed or recorded during your visit.
DIRECTIONS & PARKING
Directions are on the Institute's website. Parking is available in the EMK Institute lot.