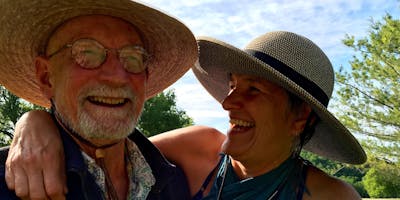 Singing Through Grief with Laurence Cole, Barbara McAfee and Aimee' Ringle
Through song, story, listening and presence, we will journey into the sacred territory of community grieving. 
Laurence and Aimee' lead this kind of experience frequently these days....and there is much we have to grieve, both individually and collectively. Bringing beauty and community to the experience helps us metabolize some of what we are carrying, freeing us up to be more alive, on purpose and awake. Barbara is planning to carry this work forward in the Twin Cities along with Lia Falls.
Here is how things will unfold.
From 4-5:30 we will be singing together and opening up several gateways to grief. 
We'll take a dinner break from 5:30-6:30 (bring your own food or head to the Wedge)
From 6:30 to 9:00, we'll dive deep into a  process Laurence has been developing that uses the ancient medicines of story, listening and song to move us into and through grief together.
This sacred and tender work requires your full presence. Please plan to be there for the entire time. 
A note about money:
Laurence Cole is a blessing. He generously gives away his music online and devotes his talents to many gatherings that don't pay him a living wage. My wish for this event is that Laurence and his sweetie Deanna receive a big bunch of money as an expression of our community's gratitude for all they bring to us. Please pay as generously as you can -- and we'll have a basket at the event for additional donations.
For more about Laurence:  www.laurencecole.com