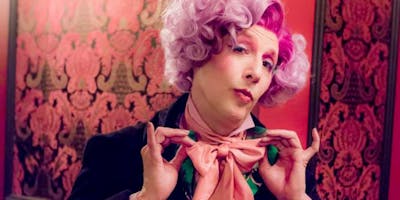 Fancypants: V is for Velocity
Strap in, and hang on! Returning for its second glorious incarnation, FANCYPANTS presents "V is for VELOCITY!" Dress to travel, as your host Sean Owens sends you hurtling through time, towards that sought-after moment of sweet release. Drag, burlesque, poetry and song will rocket you through the hustle-and-bustle of modern life, from the Industrial Revolution to the frenzy of FOMO. Mingle with artists and visionaries of every stripe, as FANCYPANTS examines our endless need to accelerate!
Billed as "a trans-temporal evening for the gender playful," FANCYPANTS invites its clientele to embrace their sensual and intellectual sides, simultaneously, in the glorious getaway that is the Armory Club. An ethereal experience for all the senses, FANCYPANTS reimagines the nightclub experience as a Salon in which to let your Bohemian Spirit soar! With "V is for Velocity," guests will jettison all inhibition as they approach the swirling vortex of Dandyist Utopia.