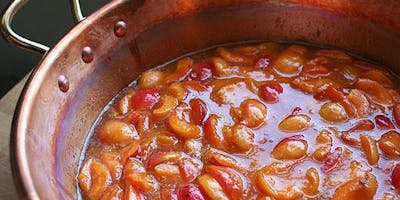 THE ART OF JAM MAKING
Learn the art of making jam with Oakland's notorious preserver, Rachel Saunders of BLUE CHAIR FRUIT! This is a DEMONSTRATION based class; join us and learn from the pro as we create 2 batches of seasonal jam with fall fruits to share! Each student will take home two jars of jam.
Founded in February 2008, Blue Chair Fruit is the product of nearly ten years of intensive research on fruit and fruit preserving techniques. Long before jam and marmalade came back into style, Rachel was slaving away in her tiny kitchen perfecting every possible jam and marmalade technique. Blue Chair Fruit is famous for its unusual flavors, which range from simple (Apricot Jam, Seville Orange Marmalade) to complex (Tomato & Saffron Marmalade, Strawberry Peppercorn Jam).
All students will recieve a 10% discount on post-workshop purchases in our store. Thanks for taking the next step in preserving your connection to food.
The minimum age for our workshops is 14 years old.