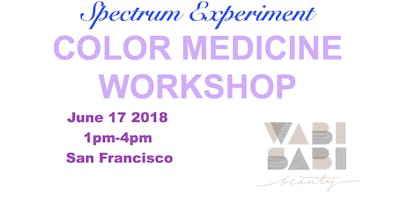 Color Medicine 101 Workshop SAN FRANCISCO
Color Medicine 101 Workshop 
Concious COLOR Choices 
Please join me for an intimate afternoon discussing the power of Color! Lets discuss how we are facilitating energetic transformation through aesthetic beauty services. This is the PREMIER of my COLOR MEDICINE WORKSHOP  on the west coast and first time in a Beauty Studio!
What does it mean that Color is energy and can be used as Medicine? 
For years hairdressers, healers, doctors, marketing companies, and artists have been using Color to stimulate and evoke different emotions and responses from the people who are using and seeing them, and in this class we get together to discuss how and why through this practice of conscious color choices we can help people transform and live with more personal power and intention. 
In this class we will tap into and discuss:


A journey through the rainbow and the different properties of each color and their intentions - we don't have to make everyone look like a unicorn to feel like one! By simply understanding the intention behind each hue/tone paired with the levels/saturations of their medicines and intentions we can use Color Medicine on our full clientele. 


A range of "medicinal doses" and which is applicable to the work you are doing


What is Energy and how can we transmute it through moving through the Color Wheel and the Underlying Pigment Chart? 


By helping people transform themselves and market themselves out to the world in different ways, how does this change their energy levels and then those around them?


How to empower our clientele to also be aware of these energetic changes, the decisions they are making and how to truly transform and manifest their lives outside of the chair through conscious color choices 


this Workshop's intention is to gather like-minded individuals who feel a call to the bigger energetic message that Color possesses! this class is for you if you desire a fresh perspective in your work as someone who uses Color and are seeking a deeper connection to your relationship with Color as a tool. 
SPACE IS LIMITED!!!!!! there will be snacks and beverages! 
details
WHAT - a sacred space to nerd out about Color 
WHERE- Wabi Sabi Beauty Studio in San Fransisco 
WHEN - June 17 2018 1pm-4pm
HOW - by the grace of the universe 
WHY - because we need to have this conversation! 

EXCHANGE - $75