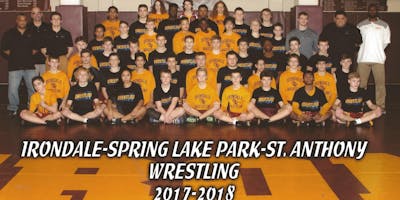 First-ever Irondale SIS Wrestling Fundraiser and Bean Bag Tournament Hosted By Bent Brewstillery
Get your team together and let's throw some bags at Bent Brewstillery!! It's Father's Day weekend so bring Dad, Grandpa, the uncles, the neighbors, whoever... Register today before all the slots are sold out! Support your team and have fun with bean bags plus enjoy great prices on local MNBrews, SIS families, friends and wrestlers, food trucks and more!! It's a WIN - WIN! 
This will be a 64 team bean bag tournament - It's a fundraiser that's actually FUN and for a great cause - Our kids! Proceedes will be used to buy new equipment, pay for lodging and food at away meets and major tournaments. 
Not competetive but want to help out the team? That's ok! You can opt instead to sponsor hole or make a donation to the club in any amount you choose. Click the the link below and show your support! 
Stay tuned for what the "more" will be - raffle items, a drawing or two, maybe a logo competition...we've got so many ideas!! Get updates and stay in touch with this event and everything Iron Wrestling on Facebook @Ironwrestling
Don't worry! There are options at Bent for non-drinkers and the kids too: Whistler Sodas, Deane's Kombucha, B+W Cold Press Coffee just to name a few - http://www.bentbrewstillery.com