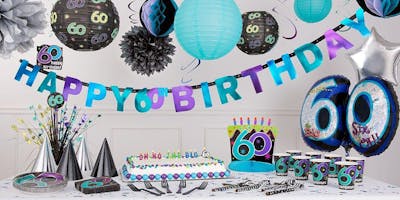 Debra's 60th Birthday Bash

THE - BIG - 60!!!!  
Not only is it Debra's birthday, but it's also Steve and Debra's 40th wedding anniversay!
---


COME CELEBRATE WITH US!
Date:  Saturday June, 16th
Time: 12:00 - 3:00 PM -  Lunch / Open house style at the Dumalas.
            4:00 - 7:00 PM - Bunker Beach Waterpark Bash ( optional activity - fee does apply ) 
Where: Open House - 10366 Quail Avenue N. Brooklyn Park , MN 55443
Part 2 - Bunker Beach - 701 County Rd A, Coon Rapids, MN 55448
---


DETAILS:
We'll be having a lunch and open house to celebrate Debra's Birthday and Wedding Anniversary complete with food, outdoor games, and dance.  At 3:30 PM for those who want to come, we'll be heading to the Bunker Beach Waterpark in Blaine for some fun in the sun.  There is a $5 per car parking fee and entrance fees into the waterpark are as follows:  Over 48 inches tall - $11.00 /  Under 48 inches tall - $9.00 / Children 1 and under are free. 
* NOTE - A gift basket / table will be provided at the open house 
---
R.S.V.P.  ( no later then Sunday, June 10th ) 
Please RSVP by reserving a free ticket to Debra's birthday bash so we can prepare for food.  Please reserve as many tickets as you need for your family to attend.  If you'd like to attend bunker beach please indicate that as well by reserving a free bunker beach RSVP ticket, and you'll pay your fee directly at Bunker beach. The RSVP is for us to prepare seating for those who want to come. 
---
We hope you can make it !