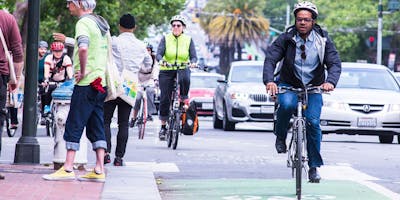 SF Bicycle Coalition Traffic Skills 101: On-Road Workshop
Practice what you learned in the Traffic Skills 101 Classroom workshop. This on-bicycle class follows a comfortable progression onto city streets, beginning with a short review of the lessons from the Classroom course. After a basic bike maintenance session, the class will practice bike maneuvering skills in a car-free practice area before riding on the streets in small, intimate groups led by instructors. You will gain experience riding alongside moving traffic in different traffic conditions, and apply the safe riding techniques practiced in the car-free space into real-life situations. Adults and anyone over 14 years of age are welcome. Bicycle, helmet and preregistration required. Please bring your lunch.
Prerequisite: Traffic Skills 101 Classroom workshop
The SF Bicycle Coalition offers a 2-hour Traffic Skills 101 Classroom course, covering the topics of the League of American Bicyclists' curriculum; as well as a 1-hour "Intro to Safe Bicycling." Note that ONLY the 2-hour class meets the pre-requisite for this class. Register for the Classroom course here.
A bicycle and helmet are required for this course. Please contact Christopher White (christopher@sfbike.org) with any questions about this program.
This project is made possible by the San Francisco County Transportation Authority through a grant of Proposition K Local Transportation Sales Tax Funds.