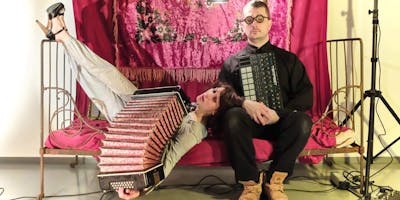 Микрокабаре экс Серебряная Свадьба
МИКРОКАБАРЕ - это новый проект от основателей всеми нами любимой СЕРЕБРЯНОЙ СВАДЬБЫ - Светы Бень "БЕНЬКИ" и Артема Залесского.
Что такое музыкально-театральное МИКРОКАБАРЕ с Бенькиных слов:
"Мы общаемся с публикой, в некоторых номерах используем интересные реквизиты. Но в целом это просто авторское исполнение моих песен. Я играю на гармошке, концертино, укулеле, Артем на электронике, барабанах, металлофоне."
На 30 процентов программа состоит из избранных песен исполнявшихся в Серебряной Свадьбе, на 30 из песен , которые в Свадьбе звучали крайне редко и на 40 процентов из новых песен, в Свадьбе не звучавших никогда. Атмосфера будет более камерной, сдержанной, звучание другое, очень интересное, веселая и трогательная, и совсем другие инструменты."
MICROCABARET
(Sveta Ben, Artyom Zalessky ех Silver Wedding)
Two people with lots of musical instruments, Sveta Ben and Artem Zalessky, the creators of cabaret band Серебряная Свадьба (Silver Wedding) which performed in NYC in 2016, are back, now as Microcabaret!
Their performance, very minimalistic but highly emotionally charged, consists of songs-stories, songs-minishows, songs-happenings. Tragic love stories of shop sellers and germs, superheroes and city fools, biographies of sparrows, snowmen, sea captains are fused into a special narrative, both sad and overwhelmingly joyful.