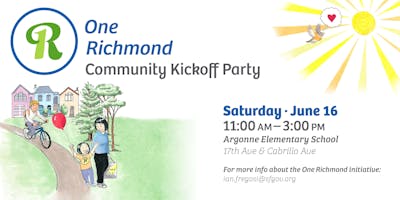 One Richmond Kickoff Party
One Richmond Community Kickoff Party
We're inclusive: We take care of each other, we take care of the Richmond, and we shop and eat locally – Now let's celebrate! Join Supervisor Sandra Lee Fewer & the Richmond District Neighborhood Center for a free party to celebrate the launch of our new neighborhood initiative – One Richmond!
Local Food · Music · Resources · and more!
Want to be a vendor at the event? Register here! 
Have a little time to spare? Sign-up for a volunteer shift! 
團結列治文 社區開幕盛會
我們具有包容性:我們彼此互助,照顧列治,, 在當地購物及飲食—現在讓我們 一 起慶祝! 和市參議員李麗嫦及列治區鄰里中心 一  起參加這場免費盛會, 慶祝我們展開新的 鄰里倡議 —團結列治文!
當地美食 · 熱鬧音樂 · 各種資源 · 還有更多!
Единый Ричмонд Первая общественная встреча
Мы - открытые и принимаем всех: Мы заботимся друг о друге и о нашем районе, Ричмонде, ходим в местные магазины и едим в местных заведениях. Теперь давайте отпразднуем!
Присоединяйтесь к окружному супервизору Сандре Ли Фьюэр в местном центре округа Ричмонд и приходите на бесплатный праздник, чтобы вместе запустить новую районную инициативу Единый Ричмонд!
Местная еда · И многое другое! · Музыка · Ресурсы