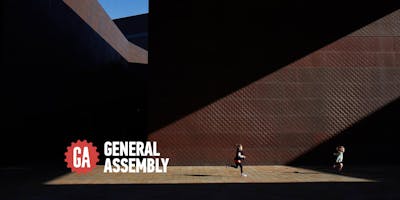 Intro to UX Design @ the de Young
Discover how design shapes our online experiences.
Celebrate the end of SF Design Week with a special installment of Intro to UX Design brought to you by General Assembly at the DeYoung Museum. During our introductory workshop, explore the decision-making process that dictates how users interact with digital products and see why businesses of all stripes have put out the call for UX talent. Plus:


Learn what the world of UX design encompasses and why it matters.


Touch on fundamental tools and techniques used by professional designers.


Practice interviewing techniques to gain user insights.


Discover resources to continue learning about UX.


Chart your own career path. Pick up where this workshop leaves off. Dive into the fundamentals in our six-week, online User Experience Design Circuit. Level up on the job in our on-campus User Experience Design course. Or, become a job-ready UX designer with our 10-week, full-time User Experience Design Immersive program.
---
Instructor
Sarah Wohl, UX & Product Design Consultant
Sarah is an art appreciator, design nerd and weekend adventurer who recently started her own company in product design consulting. She's spent over 8 years as an in-house product designer working at Bay Area startups like Detour and Chairish and leading mobile design at ModCloth and PayPal. Now she consults for a myriad of diverse clients from startups to medium size businesses and design agencies. She's perfected her craft as both UX and UI designer, has managed a small design team, helped kick off user research initiatives and has shipped numerous apps to the iTunes App Store and Google Play. As a maker, manager and teacher, her passion is in creating meaningful, intuitive and polished experiences that change people's lives for the better. When she's not at her desk, she's out exploring the Bay Area by motorcycle, dining at San Francisco's tastiest restaurants or teaching classes for up and coming Bay Area designers.