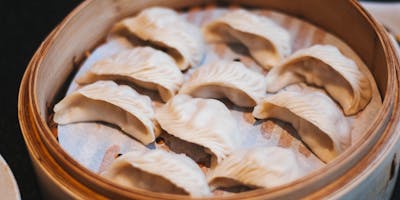 The Art of the Dumpling with Noodle Lab

The Art of The Dumpling with Noodle Lab
Presented by The Trustees
Learn the art of the dumpling. In this fun, hands-on class, Audrey Yap, co-owner of Noodle Lab, will teach attendees how to create dumplings from scratch using two dumpling recipes that were in her family for generations. Audrey will walk attendees through the steps for preparing homemade dough and share secrets for shaping and filling dumplings. Enjoy working alongside classmates and practice shaping and pan searing dumplings to perfection. Plus, learn techniques for making fresh dipping sauce from scratch! Each participate will enjoy 12 dumplings each. 
While you're learning to make homemade dumplings, the Boston Public Market's local wine expert will pour tastes of three different wines from Massachusetts wineries. This is a wine tasting so each pour is about 1/3 of a glass. 
Menu:


Chicken and Scallion Dumplings from Chestnut Farms


Vegetarian Dumplings with Seasonal Veggies from Stillman's Farm


Sweet & Savory soy dipping sauce


The Art of The Dumpling with Noodle Lab 
Wednesday, April 25
Wednesday, May 30
Wednesday, June 27 
6:00-8:00 pm
The KITCHEN at The Boston Public Market
100 Hanover Street, Boston
Tickets: $60 for Trustees member and $75 for Non-Trustees Members. Members must bring their current member card and number. Join The Trustees and save! Members save between 20-40% off all classes in The KITCHEN.
Our hands-on cooking classes are structured as a group learning experience; you'll work with other students to create a seasonal meal led by our professional chef instructors. We focus on learning new cooking styles and techniques to increase your confidence and enjoyment in your own kitchen. Here are a few things to know before booking a class with us:



Each class is centered on the local, seasonal farmers and artisans of the Boston Public Market, so menus may change slightly based on what's available the day of the event.


During each class, you'll learn 2 or 3 recipes, you'll work with between 2 and 4 other students to create each one, and you'll enjoy a plentiful taste of each.


Classes are usually between 2 and 2.5 hours long, unless otherwise noted.


Please be prepared to be on your feet, standing at a table, and cooking for the duration of class.


We recommend comfortable, non-slip, and closed-toe shoes.


About The Trustees and The KITCHEN
As one of the largest owners of agricultural land and the premier steward of the cultural and natural landscape of Massachusetts, The Trustees extends its leadership to transform the local food system by connecting residents and visitors back to the land and sharing the Commonwealth's collective agrarian heritage through innovative retail and educational experiences at the Boston Public Market in the heart of downtown Boston.
The KITCHEN is a community gathering place, managed by The Trustees, that is restoring the craft of seasonal cooking in Massachusetts, New England, and beyond through hands-on classes and educational experiences that celebrate the farmers and artisans of this region. Partnered with the Boston Public Market, The KITCHEN embraces a whole-food approach to eating and promotes cooking as an essential cornerstone of a sustainable food system.
Join The Trustees and receive 20%-50% off all classes, workshops, and events at The KITCHEN and all Trustees properties.