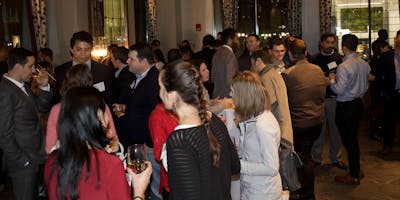 Networking Night for Boston's Young Professionals
Let's launch your summer! Join us on the Glass Patio at the Palm for our next Professional Networking Night, to meet and make new connections with Young Professionals in Boston.  Meet other young professionals like yourself to collaborate, exchange ideas, find clients or referrals, learn about a job opening, and most importantly build your network.  Preprinted Name tags with your name, company and job position will be prepared for you in advance.  We have the entire glass patio reserved for us to enjoy the summer breezes (covered and enclosed if the weather doesn't cooperate)

Hot Appetizers provided: See menu below

Door Prize: Say hello to the team from Entertainment Cruises and enter to win tickets to the Spirit of Boston!
Tickets:
Not a member? Guest tickets are $20 in advance to guarantee entry.
Use the General Admission ticket, and when you arrive by 6:30 receive a drink ticket! (drink ticket is good for beer, wine and single liquor cocktails)
Official BostonYPA members (current on their membership dues) must RSVP in advance between May 16th and 4pm on May 30th to reserve a complimentary ticket.  Become a member on our website: https://bostonypa.com/membership-2/
We utilize pre printed name tags that come in clip holders, but sticker badges will also be available for last moment registrants.

This is the right event for you if you want to:
*Find New Clients or Referrals, or meet other professionals to align with
*Increase your visibility in the Boston Community
*Meet with recruiters to learn about their job openings, or network with candidates and job seekers.
*Connect with key members of BostonYPA and learn more about the Boston Young Professionals Association.BostonYPA is providing passed appetizers for you to enjoy! Come straight from the office, you won't be left hungry.  Tentative menu includes:


Lamb Meatballs


Beef Brioche Sliders




Chicken Parm Sliders




Stuffed Mushrooms (Vegetarian)


Mushroom and Gruyere Tarts (Vegetarian)


House Made Apple Cider Donut Holes


Driving In? Valet Parking is Validated for $15
Find more information about the Boston Young Professionals Association at www.bostonypa.com While many of our events are open to the public, they are often free or deeply discounted for our members.  Each and every one of our events is run by members of our leadership team - you will always know our friendly faces, and have hosts on hand to make sure everything runs smoothly.  Join our community!