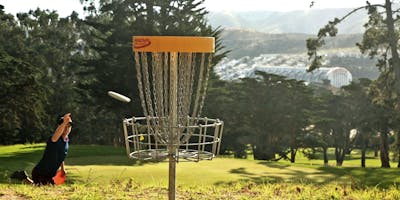 Disc Golf Pro Tour - San Francisco Open presented by Innova Champion Discs
Welcome to the San Francisco Open - a new stop on the Disc Golf Pro Tour.
This coming Memorial Day Weekend, fans can watch the world's best disc golfers compete to be the SFO Champion! The action will unfold at Gleneagles Golf Course. 
More than just a tournament, this will be a full-scale festival with a disc games midway, food trucks, a long-distance competition, and more!
EVENT DETAILS
- World's best Disc Golfers
- Disc Games Midway
- Watch throws of over 600'!
- Sweeping views of San Francisco Bay 
- Clubhouse with full bar - the best 19th Hole around
- Long distance competition
- Full schedule
- All ages, rain or shine
TICKETS*
- FREE kids 5 & under
- $10 Daily General Admission: includes admission & access to Disc Golf Pro Tour disc games midway
- $30 Tournament Pass: includes SFO disc of choice & access to Disc Golf Pro Tour disc games midway
- $100 VIP Experience: Includes 3-day admission ($30), special disc ($25), Play the Pro Tour Course on Wednesday or Thursday after 3pm (priceless), and access to the VIP Zone that overlooks Holes 1, 8, 9, &18 (wicked priceless). Limited 50 total.
Like and follow our Facebook Page for more updates.
#SFO #DGPT #PDGA #discgolf #ThrowSFO #sanfrancisco #gleneagles #gleneaglesdiscgolf #sfdiscgolf #innovadiscs #sanfranciscoopen #pdgawomen #zucainc #AndersonValleyBrewingCompany
*All tickets purchased should be considered as "rain-or-shine" final purchases.