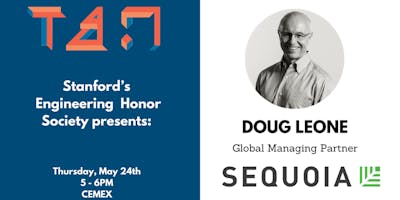 Fireside Chat with Sequoia's Doug Leone
Stanford Tau Beta Pi hosts an annual Distinguished Speaker Series open to the public to share the voices of leaders in the technology industry with the Stanford community.
This year's speaker is Doug Leone, global managing partner at Sequoia Capital. As a Sequoia Steward, Leone pioneered Sequoia's expansion into the global market. 
From Apple and Google to Airbnb and WhatsApp, the 
Sequoia
 team has been building market leaders for 45 years. 
Kathleen Chaykowski, tech reporter at Forbes, will facilitate an 
exciting discussion on tech trends, venture capital, stories about entrepreneurship, advice for new graduates, and more!
Invite your friends and help us spread the word! This event is free and open to the entire Stanford community.