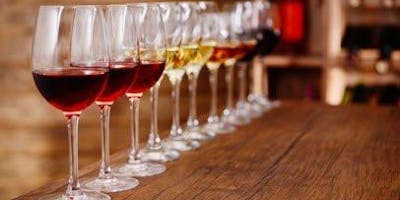 Let's WINE Down Social----- End of Year Celebration
Greetings, Colleagues + Friends:
Plautus said, "Let us celebrate the occasion with wine and sweet words."  
As we near the end of another semester, I want to thank each of you for your service and support to the Office of the Dean of Student Services.  So, Let's WINE Down!  
Please join me for an evening full of socializing + music + appetizers...and WINE, of course!  This is my way of saying THANK YOU for all that you do!
Tickets: $5.00 Donation - Proceeds will be donated to the Peralta Community College Foundation - Laney College Emergency Fund.
ONLY 70 tickets will be sold.  First-come, First-serve.  You are allowed to purschase a ticket for a plus one.  No one under the age of 21 will be admitted. 

---
Let's WINE Down At a Glance:
5:00pm  |  Welcome (Guests Arrive)
5:15pm  |  First Tasting 
5:30pm  |  Second Tasting 
5:45pm  |  Raffle + Brief History of Brooklyn West Winery
6:00pm  |  Third Tasting
6:15pm  |  Fourth Tasting
6:30pm  |  Raffle + Announcements 
6:45pm  |  Closing + Final Remarks
7:00pm  | Wine + Club Membership Purchases
---
Note: Please arrive on time if you want to take advantage of all four exclusive wine tastings!
Raffles:  Gift Cards + Wine Packages + Vacation Getaways + Spa Treatments + so much more!
Wine Discounts:  By attending you get to take advantage of wine purchases and club memberships!
Food Catered by: Personal Chef Ikeena Hardman | Keena's Kitchen
I look forward to celebrating with you!