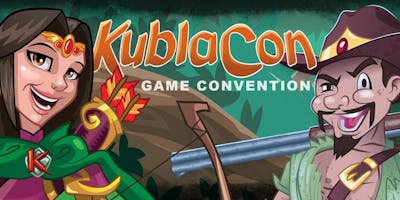 KublaCon Game Convention / Memorial Day Weekend 2018
Make your plans for fun!  KublaCon is the West Coast's largest gaming convention, with over 96 hours of non-stop gaming FUN! Running extended hours for pre-registered attendees ONLY in 2018 from Thursday at 5pm to Monday at 5pm, attendees will experience a huge choice of games from board games, to roleplaying, to special events of all sorts! Begin making your plans to join us this year by registering and booking your room at one of our two hotel locations:
Special hotel rates are available but are in limited quantities.
X-Wing System Open, Destiny Galactic Qualifier and L5R Kotei all held at the Crowne Plaza all other events are held at the Hyatt Regency. 

PRE-REGISTRATION IS STILL AVAILABLE
4-Day Pass = $80  (includes programming as early as Thursday evening)
until May 20th, 2018 (absolutely no refunds will be given for this ticket purchase)
Pre-Registered Attendees will have access to early-bird events - such as the game library - starting Thursday at 5pm.