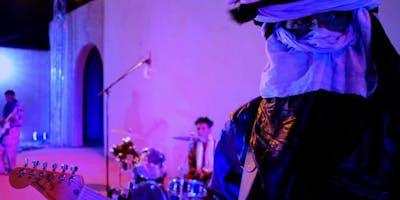 Mdou Moctar: Tuareg Acid Western film & Desert Blues performance
MATATU presents another evening of film and performance that pairs "Zerzura," a feature-length film shot in the Sahara desert that includes an entirely African cast, followed by a live performance featuring Mdou Moctar and the film's star, Ahmoudou Madassane. Zerzura is a folktale transposed into an acid western, a collaborative achievement - written and developed with a Tuareg cast, and shot in and around Agadez, Niger.
Presented in partnership with 
Amoeba
 Music & 
The Umoja Festival
.
ZERZURA
Zerzura takes place in and around the city of Agadez, in the North of Niger. Once an important stop for trans-Saharan camel caravans, it has today reestablished itself as a hub of movement, but for di
fferent reasons. Migrants from all over the continent pause here on their trek North, bound for mythic cities in Europe. Tales of riches in the desert abound, and men sell their houses for gold detectors. Young Tuareg leave home to seek their fortune in the fractured Libyan state. As people leave, their stories return, becoming wildly exaggerated versions of truth.

Taking its cues from the ethnofiction proposed by Jean Rouch, Zerzura mixes folktales with documentary, to explore Saharan dreams and imagination. The film was developed and written collaboratively on site with a local team. The images were shot over the sub-sequent two weeks with a cast of non-actors with improvised performances. Stylistically, Zerzura exists between cultures, an attempt at transcultural cinema. Narrated through- out with improvised instrumental guitar from protagonist Ahmoudou Madassane, the score sets the tone for a fever dream of a journey.

MDOU MOCTAR
Mdou Moctar hails from Abalak, in the Azawagh desert of Niger, where he taught himself the guitar at a young age on a homemade instrument. Inspired by returning Ishumar, Mdou traveled the road to Libya where he traveled and worked odd jobs. Rising to the status as local celebrity, in 2008 he traveled to Nigeria to record his first album "Anar" – a psychedelic electronic album of Tuareg guitar, became an instant success throughout the mp3 networks of West Africa. One of the few original singer/songwriters willing to experiment and push the boundaries of the genre, his unconventional styles have won him accolades both in Niger and abroad.

FATIMATA VETU
Fatimata Vetu is an educator and a photographer originally from Mali, Ivory Coast, and France. Before coming to the U.S, she studied documentary and studio photography in London, with an emphasis on portraiture and abstract realism. By way of the lens, Fatimata's work illuminates the nuanced narratives of the global human condition. "I look for evocative presences, elements of a social fabric or intimate figures, as a motif to epitomize the infinite alternatives of what she calls ExileDiem: 'What it means to be here, to be there, to be elsewhere, now, and then.'" 

http://

fatimatavetuphotographer.my

portfolio.com/