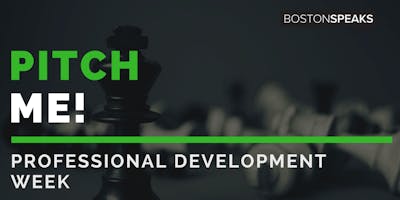 Pitch me! Perfect your Investor, Client and Staff Pitches | Professional Development Week
Welcome to Professional Development Week! (Monday, May 21st - Friday, May 25th, 2018) Presented by BostonSpeaks
A free, five-day series of events connecting, educating and empowering Boston's business professionals. Whether you're a creative entrepreneur, a leader at a growing company, or someone pursuing a new passion, we have an event for you. (Check out the full schedule here)
Workshop Description:
Not all pitches are the same. As in sales, know your audience! We will walk through the Triple ICE methods of delivery and create a unique selling proposition. 
Who Is This Workshop For?
This workshop is for idea generators, business owners  and people who want to give an effective pitch every time.
What You'll Learn:
A. Learn the differences between audiences and what metrics are needed for each. 

1. Investor 
2. Client 
3. Employee/Staff 

B. Learn how to simplify your message for clarity in various situations 

C. Walk away with a Unique Selling Proposition to base your future pitches 

D. Read the room.

Important Notes:


Our in-person workshop experiences are created to host 10-15 individuals to foster learning and to spark lively discussions. 


With any of our events, we ask that you committ to attending if you have RSVPed.


Seats are limited and will be on first come, first serve basis




Your Instructor: 
Sankeetha Selvarajah
Sankeetha Selvarajah Esq., is a corporate attorney and small business consultant for nearly 10 years. She is co-founder of Strata Advisory (an advisory board for hire) and Founder of Bizto.co, a resource for business owners. On average she reads over 75 business plans a year and sits on pitch panels for the CWE and internal advisory boards.

Rica Elysee is the CEO of BeautyLynk, a MassChallenge Winner. A consummate entrepreneur and pitch fanatic herself, she also sits on numerous pitch panels for the CWE and various boards.

BostonSpeaks offers private coaching, group classes and corporate training to help individuals take their communication, leadership and business skills to the next level. Our mission is to equip individuals with the necessary skills, connections and mindset to become more successful in their professional career and life. Learn more at www.bostonspeaks.com