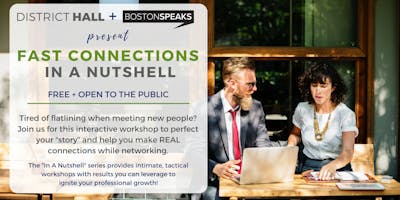 Fast Connections In A Nutshell
District Hall and BostonSpeaks are teaming up to bring you the In A Nutshell workshop series. Small session jampacked with effective strategies to heighten vital skills that can be leveraged into professional growth.
Fast Connections In A Nutshell: Are you tired of flatlining when meeting new people? What if networking events did not bring anxiety and disappointment but REAL connection? Well, it is possible! How? By telling targeted stories that allow for genuine connections with others. During this interactive workshop, you will learn how to tell a short story that intrigues, and invites questions and leave with one or two crafted short stories that tell others what you do without being boring.

Sign up for this free intimate tactical session 
Interested in more targeted workshops? Check out our other In A Nutshell sessions below!
Spring Schedule
Thursday, April 12: Networking In A Nutshell, by Claudia Thompson
Tuesday, April 17: Storytelling In A Nutshell, by Steve Slavsky
Tuesday, May 8: Listening In A Nutshell, by Kit Pang
Thursday, May 24: Fast Connections In A Nutshell, by Catherine Storing
Tuesday, June 12: Business Growth In A Nutshell, by Kim Dawson
Tuesday, June 26: Career Happiness In A Nutshell, by Scott Stolze

*All workshops are free and open to the public. Space is limited.
District Hall is a platform for Boston's innovation community. We are a collaborative, innovative event venue, public workspace, that hosts programming designed to bring people together, break down barriers, and think differently about some of the biggest issues facing our communities! Learn more at www.districthallboston.org
BostonSpeaks offers private coaching, group classes, and corporate training to help individuals take their communication, leadership and business skills to the next level. Our mission is to equip individuals with the necessary skills, connections, and mindset to become more successful in their professional career and life. Learn more at www.bostonspeaks.com
 *Please note that by attending this event, you are agreeing to allow District Hall to use your voice and/or likeness in photographs or videotape on our website and on various social media channels.