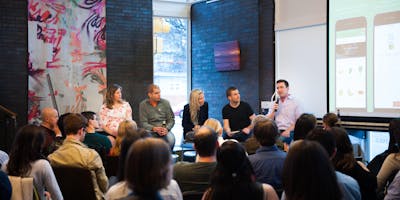 Workbar Speaker Series: The New Age of Localized Marketing
Local businesses today are in a unique position. On the one hand, they face competition that no longer has to be local to enter the marketplace. On the other hand, it also means businesses can now compete with other businesses (both large AND small) without necessarily having to match their budgets.
New media has leveled the playing field in many ways. Still, it seems most entrepreneurs and local business owners struggle to understand and take advantage of this landscape.
This event will feature a panel discussion on valuable marketing hacks and tips to leverage for small and local businesses, courtesy of the people that do it every day for a living!
Moderated By:
Colin Barry - Editor & Contributor at VentureFizz


Panelists Include:

Damien Smith - Marketing Director at Yelp Boston

Eric Groves - Co-Founder at Alignable.com

Daniel Murphy - Marketing at Drift

Justin Miller - Head of Marketing at Workbar
More Panelists to Be Announced...