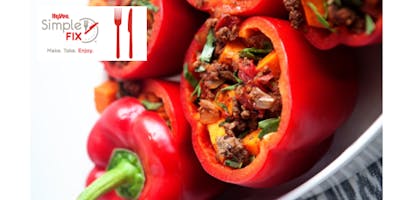 Simple Fix - Featuring Whole 30 compliant recipes
We shop. You prep. We clean up.
In about an hour and a half, you can prep 5 meals to take home, put in the freezer and make at a later date.   Recipes are designed to be compliant with the Whole 30 program.  Each meal serves 4 to 5 people. Bring a cooler or tote to carry your meals home.
Recipes to be prepared include:


Stuffed Peppers


Citrus Chicken



Salsa Verde Shredded Pork



Southwest Flank Steak



Shrimp and Vegetable Stir-Fry


Price includes groceries, space for workshop, equipment, storage bags for meals, and clean up!
We:



Provide a wide range of enjoyable recipes




Do all of the shopping




Have employees on hand to assist you with any questions




Do all the dishes and even take out the trash



You:



Choose a convenient time from the scheduled dates




Assemble a variety of healthy meals




Leave the mess behind




Take home multiple entrees to make the month easier - don't forget to bring a cooler or reusable shopping bag to bring home all your delicious meals!



If you sign up and then decide that you are unable to participate in the class and the registration deadline has passed, we do not issue refunds. You have 2 options:



Send a friend or family member in your place to assemble the meals for you.




Arrange a date/time within 48 hours of the class time to pick up the groceries and assemble meals at home.



By signing up, you are acknowledging, no refund or exchanges will be given on classes for no show. Hy-Vee reserves the right to cancel any class that fails to attract sufficient enrollment, dietitian illness or inclement weather. In this case, a refund will be issued
Questions? Contact Mary or Jena at 651-714-3160 or 1462dietitianmailgroup@hy-vee.com.