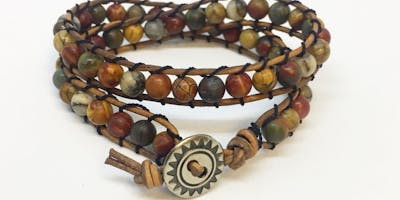 Wrap Bracelets
This trendy leather wrap bracelet style is a hit!
You'll create a bracelet that wraps around your wrist twice and finishes with a button style clasp. A shiny row of glass, crystal, or gemstone beads surrounded by leather. All participants will receive instructions to take home so you can make more. 
You can wear your creation or give it to someone special as a gift! Once you learn the basic techniques you can easily create bracelets using any mixture of beads. 
The cost is $34 and includes all of the materials to make your bracelet. Reserve your spot through the Eventbrite link. 
*Cancellations accepted up to 36 hours prior to the event start time. Refunds will not be allowed after this time but rescheduling is possible. Please let us know as soon as possible if you need to reschedule.