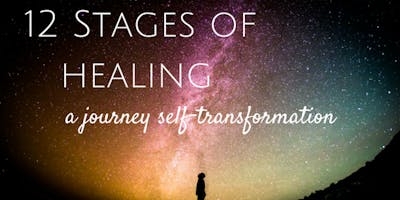 12 Stages of Healing - A journey of self-transformation
As our great mentors have shown us, healing rarely happens in isolation...for we are much more powerful and stronger in COMMUNITY.
Join us as we take a journey together through the 12 Stages of Healing developed by Dr. Donald Epstein to help faciliate greater self-awareness, healing, and sustainable transformation. 
Each series will be explored and led by Dr. Mel Krug and community wellness leader, Michael Krug. Series include personal reflection, Somato Respiratory Integration exercises (bodymind and breath work), music, journaling, self-affirmations, and guidance into deeper healing experiences that allow personal transformation to emerge with each Stage of Healing.
The Journey:
1st Series - Stages 1, 2, & 3 - WED May 23rd 6:30-8pm
2nd Series - Stages 4, 5, & 6 - TUES Aug 7th 6:30-8pm
3rd Series - Stages 7, 8, & 9 - SAT Dec 15th 11:30am-1pm
4th Series - Stages 10, 11, & 12 - SAT Jan 19th 11:30am-1pm
Investment Choices
Early Bird Full Series - $220; ENDS Sunday, March 4th at Midnight  w/ price increase to $250
Individual Series - $60 per series/class 
*NOTE - if you are a current practice member at Inspire Life, please contact us at 651-756-1218 to receive your VIP discount :)
*Please bring a yoga mat OR blanket as well as notebook/journal and pen. 
________________________________________________________________________________________
Participants will have the ability to:


Learn tangible AND sustainable tools for harnessing internal resourcefulness


Access deeper strategies that will continue to support practice member currently under Network Spinal care


Experience personal breakthroughts physically, mentally, and emotionally with guidance from a trained practitioner


Feel empowered along their healing journey asll well as gian strategies to help others feel empowered


Positively and deeply connect with other community members in a safe, healing space