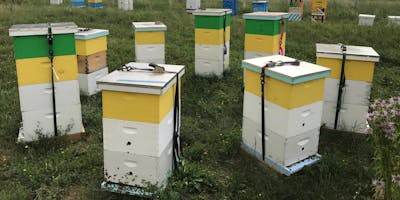 The Beekeeper Scientist Series
This series of 6 classes invites scientifically-minded beekeepers to join the Bee Squad in managing a Bee Informed Partnership Sentinel Apiary.  Classes start in the Bee Lab with a discussion about recent Varroa research and management and then move to the UMN Bee Lab Teaching Apiary for the hands-on collection of colony health data. 
Class requirements:


Have taken Beekeeping in Northern Climates or another basic beekeeping class


Or have kept bees for at least one year


Class locations:


University of Minnesota Bee Lab (1634 Gortner Ave, Saint Paul, MN 55108).


 We will track 8 colonies over the management season in this hands-on class where you will learn:


How to do an alcohol wash to sample Varroa



Count frames of bees


Rank brood patterns


Look for signs of disease


There are 6 classes in this series. Beekeepers will attend one class a month for 6 months.
The dates are as follows:


Wednesday, May 23rd- 5:30-7pm


Wednesday, June 20th - 5:30-7pm


Wednesday, July 18th - 5:30-7pm


Wednesday, August 15th - 5:30-7pm


Wednesday, September 19th- 5:30-7pm


Wednesday, October 17th - 5:30-7pm


Pricing structure:


Six 1.5 hour classes for $150.00.


For more information about our Mentoring Apiary classes as well as class location please check out our website https://www.beelab.umn.edu/bee-squad/mentoring-apiary.