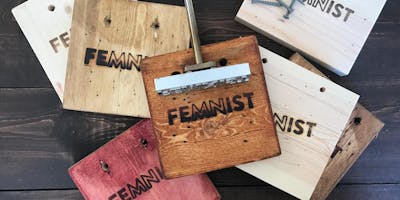 Wood Art Workshop: Build Your Empowerment
Join Still Kickin, Hagen and Oats, and Strey Designs for an evening of empowerment you can take home with you! 

You'll stop by each of the three vendors to collect what you need for each step of the creative process. 

1. The Still Kickin station will provide the pre-purchased wooden plaques branded with "FEMNIST," which you can customize with a note on the back. 

2. Next, you can select your stain(s) Hagen and Oats station and learn how to apply different looks to your work.
3. And to finish it off, learn how to use a traditional leather strap cutter at Strey Designs station to create a hanging piece of art.