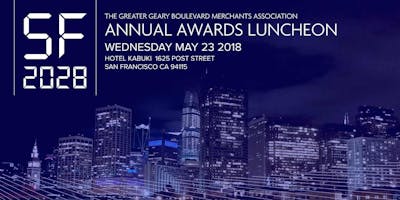 Annual Awards Luncheon "San Francisco 2028"
The 72th annual Greater Geary Boulevard Merchants Association Annual Awards Luncheon.
This year, the luncheon will take place on May 23, and will include an awards ceremony to honor outstanding individuals and organizations in our community.
A fantastic lineup of distinguished speakers and entertainment focusing on the future of the city, called San Francisco – 2028, which will be hosted by former Honorable Mayor Willie L. Brown, Jr. Since the event is only a couple of weeks before the election, many local politicians will be present, including Board of Equalization Member Fiona Ma, who will M.C. the luncheon.
The luncheon will be held at the Hotel Kabuki in Japantown. The doors will open at 11:30 am., and the event is scheduled to last from noon to 1:30 p.m..
Limmited seating - No tickets sold at door - RSVP by May 17, 2018
Phone: David Heller, President 415-517-2573
Email: david@beautynetwork.com