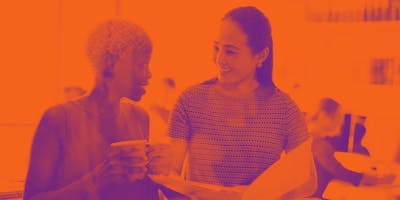 Negotiate With Confidence at Work and Life
The fact is women negotiate less than their male counterparts in today's workplace.
According to a survey by Glassdoor, "sixty-eight percent of women accepted the salary they were offered and did not negotiate, a 16-percentage point difference when compared to men (52%)."
Well, here's another fact.
According to Katie Donovan, founder of Equal Pay Negotiations, "Women may not realize that many companies set aside money with the expectation that employees will ask for better compensation packages. Yet only 30% of women bother to negotiate at all, while 46% of men negotiate."
So why don't women ask for more at work?
Fear. Intimidation. Feelings of inappropriateness or greediness. Whatever the reason is, it's most likely shared by other colleagues. But the reality is that if the gender value gap is to be bridged at all, much change comes from the practice of effective negotiation.
Join us on May 16 for a negotiation workshop led by Melissa Hereford, a career coach who brings 22 years of experience empowering women and men on how to negotiate with confidence. She'll deliver actionable insights that you can immediately start implementing at work the next day.
*****************
DESCRIPTION
The Emotionally Intelligent Negotiator: Three Ways To Find Your Voice, Say What You Mean and Be a Respected Leader
Whether we notice it or not, we encounter situations every day that involve negotiation or present opportunities to negotiate. Without negotiation skills, you might simply give in or give away more than was necessary, selling yourself short of advancing towards greater opportunities. Arm yourself with knowledge and practical tips you can immediately apply at work the next day. Join this interactive workshop led by negotiation expert Melissa Hereford to practice negotiating and advocating for what you need to get what you want.
Learn how to master your mindset.
Mindset is the most underrated and most important part of asking for anything in life. You have to believe that you deserve what you're asking for. How do you get that belief?
Learn what you say and how you say it.
Learn the words to use and your tone of voice to convey confidence and build rapport. Listen in on how to increase your confidence, even when you're freaking out on the inside.
Learn how to bounce back when you get a "no." 
When you understand how to stop taking things personally, you become more confident in with your requests, even after you get a "no." 
ABOUT THE SPEAKER
Melissa Hereford, Founder of Negotiate with Confidence
Melissa Hereford has been teaching people how to negotiate for over 22 years. Through her workshop Negotiate With Confidence, Melissa teaches women skills to get ahead and get along, to confidently ask for what you want without worrying that you'll be called "bossy" or "too aggressive."
A majority of women feel powerless as if they don't have a choice in life situations. Melissa explains that you have all of the tools already inside you to make shifts in your everyday agreements that will change your life.
Learn more at MelissaHereford.com where you can find free resources including a salary negotiation script to help you confidently ask for what you want and feel great about it.
ABOUT OUR SPONSOR
Cloudflare speeds up and protects millions of websites, APIs, SaaS services, and other properties connected to the Internet.