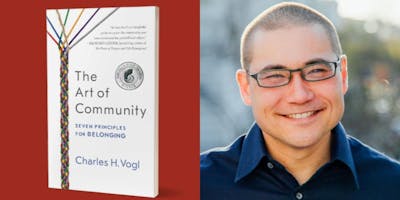 Creating a Culture of Belonging Workshop with Author Charles Vogl
6:30pm - Light food served
7pm to 9pm - Workshop Program
---
Do you know that even the most prestigious and high profile organizations struggle to attract and retain the best talent because of organizational culture? Do you also know that Millennials, employees of color and women too often feel disconnected, unwelcome and even lonely inside organizations? Have you read that this is the loneliest generation in American history?
In this highly experiential workshop with author Charles Vogl, participants will learn rarely discussed yet time tested principles that strengthen organizational connections and build team support where and when needed. Each principle is distilled from 3,000 years of spiritual tradition for use in any organization or field. Topics include:
-Defining belonging & community
-Culture is changing (a lot) and disconnection grows
-Principles introduced with interactive exercises.
__________________________________________
About Charles Vogl, M.Div.

In his 20s, Charles served in the U.S. Peace Corps in northern Zambia. There, he witnessed inspirational community inside his rural village. After the Peace Corps, Charles founded Broken English Productions in New York City. His PBS projects touch on topics such as education, school reform and civil rights advocacy. His film, "New Year Baby," tells the story of Cambodian genocide survivors. The film won many awards including the Amnesty International prestigious "Movies That Matter" award.
Charles is a regular guest lecturer at Yale, where he earned his Master of Divinity. His first book, The Art of Community shares how both community and belonging can be built through time-tested ideas and rituals. The book is a guide to creating meaningful communities that enrich both individuals and humanity.  It won a Nautilus Book Award for Business and Leadership writing.

www.charlesvogl.com