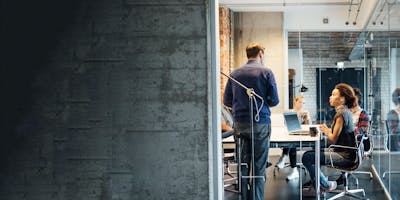 Schwab Digital Talks
The Schwab Digital Talks Series is designed to share best practices and learnings as we disrupt the industry across several disciplines, in particular as a part of our new Digital Accelerator work. The Digital Accelerator brings together talent from across different functions and disciplines to build the future of financial services by rapidly testing our ideas through an iterative prototyping process with our users. In this work, we build best-in-class software experiences and have the opportunity to cascade new innovations to Schwab's broader teams and client universe.
Schwab's Accelerator program is part of the company's broader Digital Services organization. Digital Services is responsible for leading the firm's work to explore, develop and deploy investments in digital technology that help deliver easy-to-use, intuitive experiences for current and future clients.
Launching a new Client Journey
In this session, we will share the latest on our work, including immediate opportunities to join the team for the next client journey. Learn more about how we are reimagining the way we do work, and about the opportunity to impact the way people achieve their financial goals during key life stages.
You'll hear from our Digital Accelerator Leaders in the key disciplines driving the work: Product, Technology, and Design. Then bring your questions for a Q&A session and meet peers and current leaders in breakout sessions afterwards. Candidates interested will be asked to apply the following day, and come in for interview days 1-2 weeks following.
What to expect:


5:30-6:00pm Get to know us – opening reception


6:00-7:00pm Learn about how we are disrupting the industry – overview and Q&A


7:00-8:00pm Meet the people leading the work today – breakout tables by role opportunity


Drinks and appetizers will be served
Who should attend?


Software Application Development Engineers


Technology Architects


Scrum Masters


UX Designers


SDETS (Test Automation)


Product Owners


Agile Coaches


Charles Schwab & Co., Inc. is an equal opportunity and affirmative action employer committed to diversifying its workforce. It is Schwab's policy to provide equal employment opportunities to all employees and applicants without regard to race, color, religion, sex (including pregnancy, childbirth, breastfeeding, or related medical conditions), gender identity or expression, national origin, ancestry, age, disability, legally protected medical condition, genetic information, marital status, sexual orientation, protected veteran status, military status, citizenship status or any other status that is protected by law.
© 2018 Charles Schwab & Co., Inc, All rights reserved. Member SIPC. (0518-81SG)