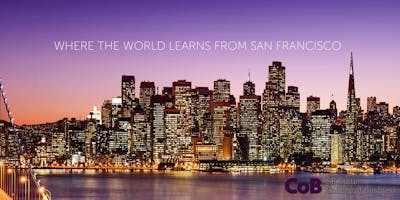 2018 CoB Undergraduate Honoree Reception
Congratulations to our Department Honorees!
On your way to the Undergraduate Honors Convocation at McKenna Theatre, we invite you to stop by the College of Business anytime between 4-7 pm where you, your family and friends can enjoy the company of your fellow honorees, faculty and staff. 
Light refreshments will be served. Please be sure to RSVP for this event!
Hood Recipient: Megan Elizabeth Larkin (Accounting)
Decision Sciences: Hoa Nguyen
Economics: Mage Cyrus
Finance: Haiyin Huang
Hospitality and Tourism Management: Jinghua Mai (MJ)
Information Systems: Nadim Omied Ebadi
International Business: Kona Melissa Kawai
Labor and Employment Studies: Alisa Pokrovsky
Management: Jefferson (Jake) Trevor Van Vorhis
Marketing: Chelsea Yiun Sze Teng

Biographies will be available soon at cob.sfsu.edu.