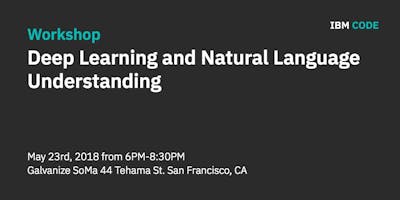 Deep Learning and Natural Language Understanding
In this technical hands-on workshop you will learn how to work with Watson! In this session you will learn and build:
Deep Learning and Natural Language Understanding
- Understand the theory of deep learning
-  Differentiate between deep learning and machine learning, and understand when best to use each
- Applying deep learning to natural language understanding
- Hands on with Watson! Natural Language Understanding
This is not your typical meetup, this is a technical hands-on workshop where you will learn how to build your first chatbot.
About the Speakers:
Marek "blumareks" Sadowski is a full stack developer advocate, a robotics startup founder and an entrepreneur. He has about 20 year experience in consulting largest enterprises in USA, Europe, Middle East and Africa as a senior engineer and an IT architect in mobile, web, Java and integration technologies.
Erica Reuter is a technical evangelist with IBM, focusing on data science and cloud technologies. In her role, she builds solutions, assists startups and spends time with as many interested parties as possible learning about their work and sharing information about IBM products and services.
As a TV junkie, Erica hosts a podcast (unsupervisedbingewatching.org) with evangelist Christine Lopez in an effort to discuss data and cloud technologies within the context of popular TV shows. Really this is a thinly veiled attempt to watch TV on the clock, but don't tell the bosses...
Prior to working for IBM, Erica spent 20 years employed in public safety agencies, working in various roles, but concluding as the manager of a crime analysis unit for an outstanding medium sized police department in South Florida. She holds numerous law enforcement and IT certifications, as well as a Ph.D in Criminal Justice.
When not researching advancements in law enforcement and how to leverage data science for the betterment of society, Erica can be found volunteering, pretending to be a maker, and spending time with her family.
Erika Bratschun is an IBM Technical Evangelist. Her love of technology and desire to work with others lays the foundation for her career in budding excitement surrounding emerging technologies. She supports companies looking to start and grow their businesses by providing education and assistance for IBM services. When she is not talking tech, she spends much of her time adventuring, from skiing to hiking, running to biking.