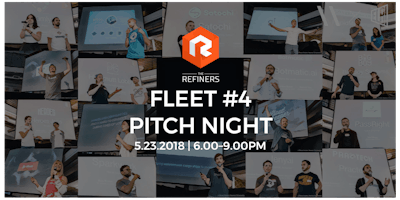 The Refiners Fleet #4 "Pitch Night"
If you're reading this right now, this is your informal invite to join us at The Refiners Fleet #4 "Pitch Night".
ABOUT PITCH NIGHT
Pitch Night (our informal Demo Day event) is a public event for 150+ startup lovers to view our most recent program startups before they take flight on their own in the U.S. (the startups in our program are foreign founded). Guests/Attendees will be the first to see the 11 world-class startup pitches, meet the Fleet, and connect with other entrepreneurs/founders/investors/mentors.
You got to see them at Pick Your Fledglings the Fledglings in March... Time to find out how much their pitch, product, and tech has improved since Day 1 at our HQ in the heart of San Francisco.
11 startups will have to demo their startup in 3 minutes, articulate what their company is doing, and captivate you with how their startup will "make the world a better place" — Silicon Valley on HBO.
Pitch Night is an opportunity to bring The Refiners Community of entrepreneurs and supporters together to celebrate the conclusion of our Seed Fund Program.
THIS IS EVENT IS FOR YOU IF...


You are a lover and advocate of the startup ecosystem


You want to see the next cohort of world-class tech startups


You want to speak and connect with hungry entrepreneurs (literally and figuratively)


You want to promote entrepreneurial equality and opportunity in Silicon Valley


The Refiners' Annual Partner, Limited Partner, Mentor, Investor Panelist 


Watch our highlight video of Pitch Night for Fleet #3:
https://www.facebook.com/therefiners/videos/539836293034823/

Dress code? Business casual, Silicon Valley style
---
GUEST INVESTOR FIRESIDE CHAT SPEAKER
Caterina Fake, General Partner at Yes VC
Learn more about Yes VC on TechCrunch
---
PITCH NIGHT TIMELINE
Check-in
6:00–6:45pm
The Refiners Welcome Message
6:45–6:50pm
Fireside Chat with Caterina Fake (General Partner at Yes VC)
6:50–7:15pm
Fleet #4 Company Demos
7:15–8:00pm
Networking Reception aka Party Time
8:00–9:00pm
Yes, finger food and drinks will be provided :) Drinks will be provided by Pernod Ricard!
---
FLEET "FUN FACT"
Fleet #4 consists of 11 startups with 12 nationalities: Belgian, Canadian, Danish, Finnish, French, Indian, Israeli, Moroccan, Romanian, Saudi Arabian, Tunisian, and American! #weGlobal
MEET THE FLEET
Big Boy Systems
www.bigboysystems.be/
Big Boy Systems has developed a new format called Immersive Reality. Thanks to our powerful content you can teleport into real life experiences that we record all around the world. Our unique and patented recording technology can make you feel like you are a hiker in the Himalayas or a dancer in Rio in real time and without leaving your couch. With our partners and our Platform, we help you to prepare a travel by showing you an exclusive insight of trendy destinations in the most immersive way.

Elva (formerly Practech Inc.)
http://www.getelva.com/
Introducing Elva, the first hospital standard medication adherence solution for homes. Patients receive vibrating reminders and can verify the right medication at the right time using Elva's wearable scanner. Their families will always have peace of mind by receiving medication alerts remotely. We have received investments from Baptist Health and Arkansas Blue Cross Blue Shield.
Heroes Jobs
www.heroes.jobs/
Finding your first job out of college seems nearly impossible. Heroes helps young graduates discover and get hired by their dream job using a 60 second video pitch made on their mobile app. Heroes replaces the outdated and boring cover letter with a revolutionized way to apply. Hiring doesn't have to be decided by a piece of paper anymore.
Jenyai
www.jenyai.com
77% of K12 students have no help after school mainly because tutors are way too expensive. To solve this issue we are building an AI Study buddy to help them do their homework and raise their curiosity. The AI is super friendly and will send you personalized content based on your learning, it also allows you to engage your friend and family on the platform.
PassRight
www.passright.com/
PassRight is the first nationwide brand for immigration law services and a tech-enabled law firm that's making it less painful for the applicant and more scalable for the attorneys. Our attorneys + software have proved 6X efficiency than the traditional law firm. With a pre-seed of $420K PassRight has reached $1M in revenue, $100K MRR, and +600 satisfied clients.
PlayGround (formerly Herrmutt Lobby)
getplayground.com
PlayGround turns any song into a multi-touch and evolutive graphic interface. Their app PlayGround already hit +1M downloads!
RapidMathematix
rapidmathematix.com/
RapidMathematix utilizes Deep Learning algorithms to dynamically price and promote fresh produce to match their real-time value based on freshness, inventory levels, and other data sources.

Satochi
satochi.io/
Satochi is an app that simplifies the investment process by rounding up everyday transactions to the nearest whole and placing the difference in user's individual cryptocurrency portfolios.
Sparkwork
www.sparkwork.io
Sparkwork is a powerful knowledge sharing and training software for your entire workforce. We focus on helping the frontline employees working in high-attrition hospitality industry.

Twist (formerly Botmatic)
heytwist.com
Twist turns written-content published online into audio stories. Our audio stories give all written-content emotion by mixing text-to-speech and sound effects with background tracks. Today, if you want to listen to audio content, you're limited to the ones on podcasts or audiobooks. With Twist, you can listen to every article that's published on the web.
Veamly
veamly.com/
Veamly helps prioritize and label conversations across different tools in the company. One of our use cases is customer support where teams optimize their attention span by integrating Veamly into existing support tools. Veamly then analyzes, flags, and prioritize all inbound messages according to their context.
---
THANK YOU TO OUR WONDERFUL PARTNERS
---
GET INVOLVED!
If you'd like to sponsor, email keenan@therefiners.co 
For press inquiries, email keenan@therefiners.co