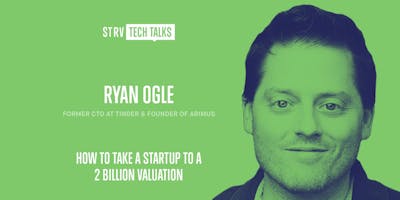 STRV Tech Talks: How to grow a $2 billion startup
Ryan Ogle, the former CTO of Tinder, will talk about what it takes to raise a multi-billion-dollar startup from the ground up. Following a successful five-year run at the world's hottest dating app, Ryan is now hoping to strike gold twice with his newly launched startup, Arimus, which will release a series of projects, including a professional networking platform called Ripple. This exclusive fireside chat will cover the importance of marketing strategies, the benefits and risks of working with remote teams and how to calculate ROIs.


AGENDA
6:00 - 6:30 pm - Check-in, grab a seat
6:30 - 7:30 pm - Talk
7:30 - 8:00 pm - Q&A
8:00 - 9:00 pm - Networking

STRV's Tech Talks is a successful concept that has welcomed guests from Amazon, Uber, Facebook, Slack, Flip, Unity, DropBox, Google and other top companies. Over the past three years, CEOs, entrepreneurs, investors and tech stars have shared their ideas and experience with more than 3,800 attendees.
ABOUT STRV

STRV is a software company that creates a bridge between top European tech talent and promising startups and well-established companies on the highly competitive US market. STRV has three offices in the US and two in Europe, where more than 150 software engineers and designers develop, administer and update apps for US startups and Fortune 500 companies.

---
By submitting your email address, you agree to receive updates about news, programs, and special events from General Assembly and STRV. Please refer to General Assembly's Terms of Service and Privacy Policy for more information.