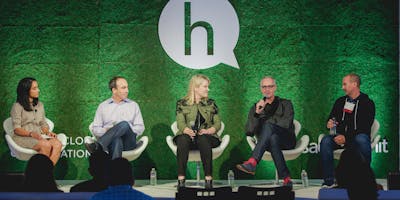 2018 Hearsay Summit
WELCOME TO THE 2018 HEARSAY SUMMIT

Join us May 23-24, 2018, in Silicon Valley to hear from a high-caliber, curated set of entrepreneurs and industry leaders who are re-imagining and reinventing financial services.  

Day One includes Role and Industry-specific Roundtables, Breakout Sessions, a Welcome Networking Reception and Dinner.  Day Two will feature TED-style talks from disruptive technology leaders in financial services that are shaping the future of the industry and society.

Come to get inspired, share best practices, and deepen connections.

An outline of the schedule is below.

Wednesday, May 23rd at the Grand Hyatt San Francisco
Noon - 5:30pm - Lunch, Roundtables & Breakout Sessions
5:30 - 6:30pm - Welcome Networking Reception 
6:30 - 9:00pm - Dinner
Thursday, May 24th at Terra Gallery
8:00am - 3:00pm - 2018 Hearsay Summit


Travel:  Please plan to arrive Tuesday evening or early Wednesday morning into SFO

Attire:  Casual / Business Casual – Jeans encouraged, no suits or ties permitted :)

Please refer back to your exclusive invitation for details on the agenda and event locations.

SUBSTITUTION ​AND CANCELLATION​ ​POLICY: Registrations are non- substitution​able​​ or transferable. Registration cancellations must be received in writing by 5:00 PM (PST) on May 3, 2018 to be eligible for a refund. There will be no refunds for cancellations received after 5:00 PM (PST) on ​May 3, 2018. Please send cancellation requests to ahavas@hearsaycorp.com.