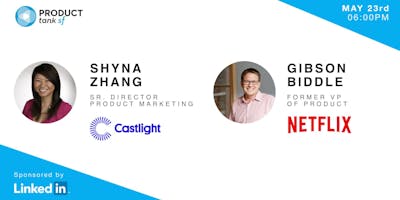 How to Instill Customer Obsession into Your Company's Culture
Join us on May 23rd for a special edition of Product Tank: World Product Day ! Product Tanks around the world will be hosting events on the same day to celebrate 8 years of global Product Tank. Product Tank chapters are now in 145 other cities all over the world, bringing together nearly 100,000 product people across 56 countries into one awesome global product management community.
You're invited to an evening of talks and a celebration of our community and growth.We've invited two fantastic product leaders: Gibson Biddle (Fmr. VP Product Netflix) and Shyna Zhang Sr. Director of Product Marketing at Castlight to discuss strategies on How to Instill Customer Obsession into Your Company's Culture. 
___
ABOUT THE TALKS
Customer Obsession: How to Satisfy Inherently Unsatisfiable Customers
by Gibson Biddle
Find out how to move beyond customer focus to "customer obsession" via consumer science to discover what delights customers in hard-to-copy, margin-enhancing ways. Learn how to get insight from four sources of consumer insight, then evaluate these ideas through various research techniques. Gib will illustrate these tactics using examples from Netflix, then, put the techniques into practice with a highly interactive, modern-day Netflix case.
_
Using the 3 T's to Curate a Customer First Culture
by Shyna Zhang
All good marketers know that all good things come in 3's, right? Join Shyna as she talks about the 3 T's of a Customer First Culture: Teams, Techniques, and Technologies that she's observed in organizations to transform mindset and alignment to put customers at the center of everything that they do.
Hear examples from start-ups to multinational companies on how you can be a change agent that ignites or reminds your organization to identify your ideal customers. Ensure that you're organization keeps your ideal customer at the center as you're building product, developing personas, and nurturing these customers to grow the business.
___
ABOUT THE SPEAKERS
Gibson Biddle - Former VP of Product at Netflix
Starting in 2005, Gibson Biddle was VP of Product at Netflix. In 2010, he became Chief Product Officer of Chegg, a textbook rental company that went public in 2013. Today, he's an adviser for multiple consumer tech companies, as well as a teacher at graduate-level courses at both Stanford and Dartmouth.
Shyna Zhang - Sr. Director of Product Marketing
Shyna has focused her career on helping Enterprise SaaS and Digital Health organizations to scale by driving go-to-market strategy by launching new products, segments, geographies, and industries. She spent over 5 years at Microsoft in Seattle and APAC and was most recently at Marketo, where she led the Enterprise Product Marketing team. She's currently leading the Product Marketing team at Castlight Health as well as consulting and advising organizations who are looking to scale.
___
THANKS TO OUR SPONSOR