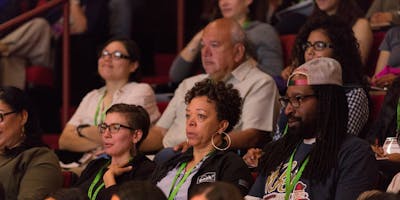 PGM ONE Summit 2018
The PGM ONE summit convenes emerging and established professionals of the global majority from the outdoor and environmental sectors to share, learn, heal, celebrate, build community, find support, and sharpen their analysis of equity in their field.  For more information, visit www.pgmone.org. 
SALES AND REGISTRATION END 5/15!!
This ticket is for the 3 day summit and includes two full days of programming on Days 2 & 3, a welcome dinner and caucusing on Day 1, access to the job fair on Day 2, and meals (two breakfasts, two lunches, two dinners).
Please check the scheudle at www.pgmone.org before registering for any sessions.
Transparency:
We understand that summit registration fees may be prohibitive for persons of limited financial means whose employers are unable to financially support them. In an effort to offset that, we subsidize the per person cost in our operating budget with funding from our summit partners, sponsors, and supporters.
We have drafted a letter to help you request additional financial support from your employer which can be found here.
If you have any further questions, please contact the Summit Planner at info@pgmone.org.
If you would like to support the PGM ONE summit by purchasing additional tickets for us to provide to people in need, paying the full per person cost of your attendance, or becoming a summit sponsor, please contact our Community Partnership Manager at partners@pgmone.org
Please note:
Other events may be added as we approach the summit, so continue visiting our website for more information.