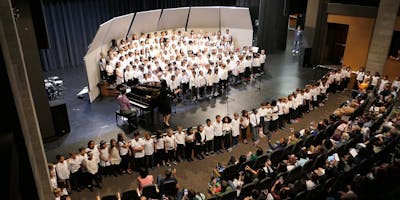 Madera Spring Concert 2018
It is time for Madera's annual Spring Concert!

Although the concert was split into two halves (K–3 and 4–6), we still had overwhelming attendance last year. Tickets are mandatory this year. Tickets will be released in two waves:
May 4–13: Each family may reserve 2 tickets for parents and/or guardians. Parents/guardians are guaranteed tickets during this wave.
May 14–23: Each family may reserve up to 6 more tickets for additional family and friends. Any remaining tickets are first come, first served.
If you have children in one half of the concert, please attend the appropriate half to ensure that we have enough room for all parents/guardians to watch their children perform.
If you have children in both halves of the concert, please register for both halves. You are invited to stay for the entire concert.
Children who are performing do not need tickets for seats. All performers will be backstage.

At the theater, you must show the order confirmation emails, mobile tickets in the Eventbrite app, or printed tickets.
If you are not able to attend, we will have a new live stream that you can watch.
Call Times
Kindergarten – 3rd Grade Performers: Please arrive at 6 PM.
4th Grade – 6th Grade Performers: Please arrive at 7:15 PM.
Schedule
5:00 PM: Food Truck Arrives (Food and drinks are not allowed in the theater.)
6:30 PM: Kindergarten – 3rd Grade Performances
7:30 PM: Intermission
7:45 PM: 4th Grade – 6th Grade Performances
8:45 PM: Concert Ends
Concert Attire for Performers




White collared shirt (or plain white shirt or T-shirt). If your white shirt has a design on it, just flip it inside-out.


Black bottoms (dress pants, black jeans, skirts with black tights). No blue jeans. Dark colored pants are okay (e.g. navy).


Black dress shoes. Black or dark colored shoes or trainers are okay. No flip-flops, sandals, or any other open-toed shoes.


No hats or caps, please.


Frequently Asked Questions
What is poutine? Poutine (poo-teen) is a Canadian dish consisting of fries covered with gravy, cheese curds, and other optional toppings. It is similar to chili cheese fries. Our Canadian music teacher, Ms. Wu, loves poutine and hopes you will try it.
Questions? Want to help out?


maderaspringconcert@gmail.com