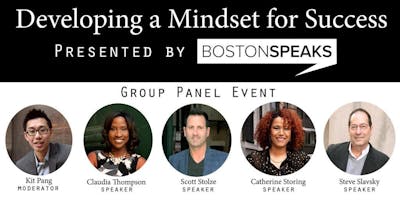 Developing A Mindset For Success
Welcome to Professional Development Week! (Mon, 5/21-Fri, 5/25) Presented by BostonSpeaks
A free, five-day series of events connecting, educating and empowering Boston's business professionals. Whether you're a creative entrepreneur, a leader at a growing company, or someone pursuing a new passion, we have an event for you. (Check out the full schedule here)
Developing A Mindset for Success
If you want to be successful as an entrepreneur, leader or influencer, you know your mindset affects the results you are getting. Whether if it is a fear of speaking, holding a difficult conversation with a co-worker or setting daily goals to accomplish, do you know how to set yourself up for success? In this panel, we will be chatting with some of the best experts and coaches in Boston to guide you through their success principals along with techniques you can use to help you become more successful in your life. 
Takeaways:


Understand how your mindset affects how you get results


The art of focus and goal setting


How leaders become successful


How to become a true leader in your personal and professional life


Time to network with like-minded individuals and panelists


The Panelists:
Steve Slavsky
As the founder of Tri-Bridge Presentations, Steve Slavsky works with businesses and individuals involved in growth and transition through Get To The Message© presentation workshops, and consulting on public speaking, business, product, and customer development.
Steve is passionate about improving communication and discovering new possibilities in dynamically changing environments, and committed to applying his skills and experiences to help others move through the critical transitions in their lives and at work. From project reviews, sales presentations, and technical discussions, to workshops, executive reporting and attracting investment capital, Steve has experience in presenting to all kinds of varied audiences. Sharing this knowledge and experience to improve communication is what Steve is all about.
Steve also dances and teaches Argentine Tango. But that's another story...
Scott Stolze
Scott Stolze is the Founder of Teaching 2 Lead, and the Innovator of the life changing program, "Create Your Great -- How To Create Your Dream Career".   Scott believes everyone deserves to have fulfillment and joy in the work they do, and that the way to do that is by owning your career and creating your fulfillment.  
"My goal is to help thousands of people take ownership of their career and create fulfillment in the work they do", says Scott.  "I want to help people create a path in which they're doing what they want to do, not what they feel they have to do or should be doing. Create Your Great, and enjoy what you are doing today and every day." 
Scott also teaches leadership principles and leadership development to individuals, groups and organizations.  Inspired to lead a better life, to become a better leader and to be accountable, Scott focuses every day on learning how to lead himself in better and more effective ways, and sharing those experiences and that knowledge with others. 
Scott recently spent over 5 years with CVS Health (Fortune 10 company) in Leadership roles in which management skills and personal accountability were essential, and now he wants to expand on and share what he has learned and continues to learn outside of the corporate walls. Scott lives in Boston, MA, but he likes to be known as someone who will travel to and be anywhere where he can provide value.
Catherine Storing
Catherine specializes in working with committed leaders & professional men and women who are willing & ready to serve others on a larger scale. However, they know they need the confidence, guidance, & tools to successfully embrace their authentic voice in order to write impactful & relevant content/books.
Catherine struggled for twenty years to finish her first book until FINALLY in 2015 she finished her first book and she has not stopped writing. She is now the author of 15 books – several of them are best-selling books that are helping people develop more confidence and self-esteem all over the world. Catherine's books and writing empower others to embrace, celebrate and showcase their uniqueness, beauty and gifts. 
What differentiates Catherine from other Book Writing Coaches, writers, ghostwriters, and teachers is that she experienced the struggle herself. She is able to not only empathize with her students and clients but also she knows how to help them overcome their struggles in easy-to-follow and fun ways. Catherine believes that EVERY PERSON has a book inside of them and she can help them birth that book.
Claudia Thompson
Claudia Thompson is President of her own networking events and training company Claudia Connects. She loves helping people grow and develop their businesses, while also helping them build relationships. Claudia is also a Director Consultant and Chapter Launch Director with the International networking referral organization BNI and has also been a sales/marketing executive with Kyocera Document Solutions for the past 14 years.