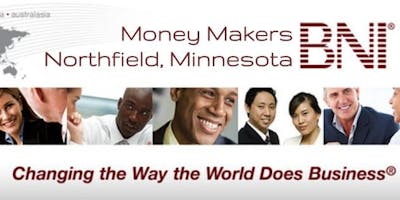 Northfield Money Makers Chapter of Business Network International (BNI)
With 220,000+ members globally, BNI is the world's largest referral marketing organization of its type in the world. BNI members have generated millions referrals resulting in billions of dollars worth of business for each other!
BNI Minnesota & Northern Wisconsin has 3,000+ members that meet weekly across 150+ chapters. Get connected today and make this year, your best year ever!!
BNI members, on average, increase their business 20% the first year. Our chapter is a dynamic, committed group of business people who know how to refer business to each other.
We have open categories for individuals who will bring enthusiasm and integrity to our meeting. Just one person per professional specialty is allowed in each chapter.
We meet every Wednesday at 11:30 a.m. at Community Resource Bank in Northfield.
Visitors are ALWAYS welcome!
Community Resource Bank is located at 1605 Heritage Drive, Northfield, MN 55057