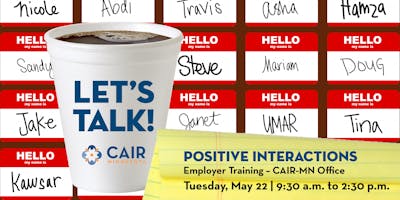 Positive Interactions Training
The Council on American Islamic Relations of Minnesota will be hosting an in-house training on May 22nd. The training will prepare you as an educator, employer, co-worker, or simply individual in your interaction and work with Muslims. Whether you want to learn about best practices for accomodating individuals during Ramadan or better understanding your neighbors, this training will give you the background, tools, and space to explore some of the questions or concerns you may have.
This training will consist of three presentations along with a Somali lunch. People are welcome to attend one, two, or all three sessions. The schedule of the day is as follows, with further descriptions of each session listed below: 
9:00am-9:30am-
Check-in
9:30am-10:45am-
Session 1: How to Work Effectively with Muslims
11:00am-12:15pm-
Session 2: Understanding Somali Culture
12:30pm-1:00pm-
Somali lunch
1:15pm-2:30pm-
Session 3: Understanding Islamophobia 
How to Work Effectively with Muslims

An interactive exercise gauges where the audience is in their understanding of the religion, and basic beliefs and practices. This session then highlights Muslim demographics worldwide, in the United States and in Minnesota. This session includes an in-depth explanation of the religion and cultural norms, including keywords, holidays, and customs held in Muslim culture. This session with conclude with a discussion of how Muslims practice their beliefs, emphasizing the continuum of diversity of practice within the religion, and how you can best accomodate your students, employees, or colleagues. 
Understanding Somali Culture 

Somalis are estimated to be the largest African immigrants in Minnesota with a rough estimate of 75,000-100,000 in Minnesota (source: McKnight Foundation). In this session you will learn all that is needed to understand the Somali American story. This training covers the pre- and postmodern history of the Somali people, their culture and their migration to Minnesota. The session also covers the different cultural norms and practices. It will uncover potential cultural gaps between the Somali and American communities, and answers many of the common questions that employers, community organizations and law enforcement ask about the Somali people. It includes both pictures and videos to offer a deeper understanding of the Somali people and their culture. 
Understanding Islamophobia 
This session will consist of an explanation of what is Islamophobia? Factors and actors behind Islamophobia, and how it relates to historic roots of Religious intolerance. This session will also look at how groups are organizing against Muslims, including speakers touring Minnesota spreading hate, the current climate in Minnesota, and incidents of hate crimes. Additionally, it will explore how groups create fear and discuss the concept of "legislating fear?" This session will discuss the root of these issues and suggest ways of addressing them as individuals and as an organization.
*For organizations or individuals unable to pay the full amount OR for groups looking for group discounts, please contact us directly at info@mn.cair.com
Details for day-of: 
CAIR-MN is housed inside Bethany Church. Free on-street parking is available as well as limited space in the lot on the Eastern side of Bethany (near 26th). To gain entry go to the E Franklin Ave door on the Western side of the building (closer to 25th). Here you will find a doorbell and someone to let you in! Please call with any questions. 
Accessability Information: 
The parking lot is on the other side of the building from the main entrance. All entrances have 5-9 stairs. The main bathroom has one step.