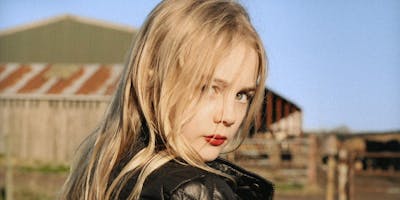 'The Midden', a new play by Marianna Simnett
The work of London-based artist Marianna Simnett incorporates video, performance, music, and fantastical literary parables to investigate the body and its limits. FD13 residency for the arts presents The Midden, Simnett's first fully live work and very first work for stage.
Written for three characters – a girl, a witch, and a sorter – The Midden is a contemporary fable about a young girl who wakes to find her voice is rotten and she is cast out of her community. Set in a fictional dumping ground, the play mines voices of the living and forgotten, calling on myths, allegories, and a swarm of intoxicated bees to examine noise, filtration, and systems of controlling waste.
Over the course of three weeks, Simnett is drafting a script and cacophonic sound collage which pulls from babbling exercises, objectionable and honey-sweet sounds, interwoven with hard categorizations of material (corrosive, ignitable, radioactive, pesticides, sharps, batteries, oil…). The production casts trained actors and a non-actor from a local, hazardous waste center. It incorporates newly composed songs, fabricated costumes, salvaged props, and handmade instruments – all produced by Simnett herself.
Marianna Simnett (b. 1986, Kingston-upon-Thames, United Kingdom) lives and works in London. Trained in classical music and theatre from a young age, its influence on her work endured as she turned to film, installation, and performance during her BA at Nottingham Trent University in 2007 and her MA at the Slade School of Art in 2013. Simnett's work has been the subject of several solo exhibitions including an upcoming exhibition at the Gallery of Modern Art (Glasgow, Scotland); current exhibition at the Zabludowicz Collection (London, UK); Wing-sleepers (Art on the Underground, London, UK) in 2018; Worst Gift, Matt's Gallery (London, UK) in 2017; Lies, Seventeen Gallery (New York, NY) and Valves Collapse, Seventeen Gallery (London, UK) in 2016; Park Nights, Serpentine Pavilion (London, UK) and Blue Roses, Comar (Isle of Mull, Scotland) in 2015. Simnett was a winner of the Jerwood/FVU Award (2015), the Adrian Carruthers Award (2013) and the William Coldstream Prize (2013). She was shortlisted for the Jarman Award and Paul Hamlyn in 2017.