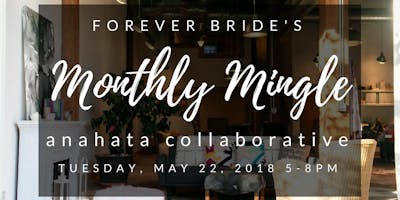 Monthly Mingle // MAY
Are you a wedding professional looking to grow your network and refine your business skills? Say yes, because you do not want to miss this! We are getting together for a few hours to hear from Autumn Lee, of Autumn Lee Studios, and get to know others in the industry. 
Autumn will be sharing her 6 steps on making your dreams a reality. 
"I found in our heart of hearts we all know what we want (need) and it is only the clarity and the call to action that we lack." - Autumn Lee

As always, light snacks and beverages will be provided. 

If you are part of our Forever Bride family, check out the community Facebook page or your inbox to receive a code for FREE entry. 

If you are interested in joining our family, please contact crystal@foreverbride.com!