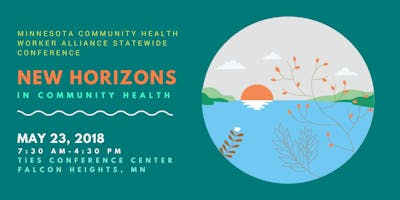 MN CHW Alliance Statewide Conference: New Horizons in Community Health

Our statewide conference brings together community health workers, supervisors, educators, providers, payers, policy makers and many others from across the state for a day of learning, exchange, networking and charting action on next-stage work.
Together we will celebrate progress, highlight lessons and results, and explore action steps needed to advance our shared vision of equitable and optimal health outcomes for all communities. 
The MN CHW Alliance 2018 conference will highlight new frontiers and settings where CHWs are making a difference, including a keynote by Dr. Shira Shavit, Executive Director of the Transitions Clinic Network (TCN). She and TCN CHW Joe Calderon will also offer a seminar on this nationally-recognized model. Participants will learn about national trends and developments that impact the direction of this field.
We will recognize CHW leaders and vision next stage work. Intensives will offer CHWs, supervisors and other stakeholders useful tools, evidence-based models and practical guidance to help introduce, expand, evaluate and sustain CHW programs that advance the Triple Aim and health equity.
For the most up-to-date information about the day's schedule and speakers, please visit our website at mnchwalliance.org/conference. Questions? Please reach out to us at info@mnchwalliance.org.

AUDIENCE:
Community health workers including promotoras(es) du salud, community health representatives and other community-based frontline workers such as doulas, peer mental health support specialists and peer recovery specialists), CHW supervisors, educators and researchers, health and social services providers, community-based organizations, local and state public health, voluntary health associations, health plans and payers, policymakers, media and interested others.