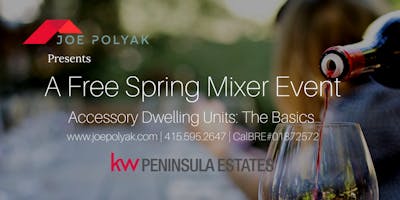 Joe Polyak Presents: Spring Networking Series
Joe Polyak presents* a FREE spring mixer event in Burlingame! Join us! 
When: May 22nd, 2018 from 6:00 pm - 8:00 pm 
Where: Steelhead Brewery, 333 California Dr, Burlingame CA 
Why: Do you want to learn more from a leading architect? Have you been wanting to get started, but just don't know how? Alex Tzang, architect and planning specialist, will be explaining everything you need to know about "add-on" structures to your home.
Enjoy free hors' doeuvres and mingle with leaders from your community. 

Please RSVP for this FREE event. For more information, please contact Gloria Kobow at Gloria@joepolyak.com or (650) 667-1324. 

*This event is co-sponsored by Art Ilinets from Resolve Insurance Solutions, and Jason Yui from Supreme Lending.