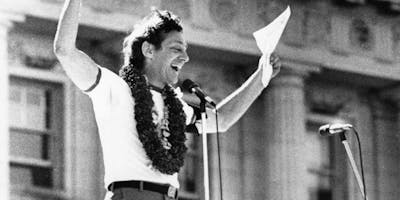 Harvey Milk Day: Free Museum Admission
The State of California annually marks Harvey Milk's birthday, May 22, as a statewide day of significance. The GLBT History Museum will honor the occasion this year by offering free admission to all visitors throughout the day. The museum is located at 4127 18th St. in San Francisco's Castro District. It will be open 11:00 a.m. to 6:00 p.m. on Harvey Milk Day.

Harvey Milk (1930-1978) was the first openly gay elected official in California and one of the first in the United States. He served on the San Francisco Board of Supervisors for 11 months before he and San Francisco Mayor George Moscone were shot to death on November 27, 1978, by Dan White, a former board colleague of Milk's. The GLBT History Museum commemorates Harvey Milk on an ongoing basis in a number of ways.
"Queer Past Becomes Present," the long-term exhibition in the museum's Main Gallery, includes a display on Milk's life and death. Among the historical objects exhibited are a "Harvey Milk for Supervisor" t-shirt from Milk's own wardrobe, as well as the suit he was wearing at the moment he was assassinated. Visitors also can hear Milk's voice in the political will he recorded just days before his death.
In addition, the museum shop offers a reproduction of a t-shirt produced by the committee that raised funds to defend protesters arrested during the White Night Riot, an uprising that took place at San Francisco City Hall in 1979 after a jury found Dan White guilty of manslaughter instead of murder in the killings of Milk and Moscone. Also available are reproductions of Milk's 1977 campaign t-shirt, as well as postcards of photographs of Milk.
For more information on the GLBT History Museum, visit www.glbthistory.org/museum. 
Photo credit: Harvey Milk speaking at the Gay Freedom Day in San Francisco (June 1978). Photo: Marie Ueda (collection no. 2006-12); courtesy GLBT Historical Society.