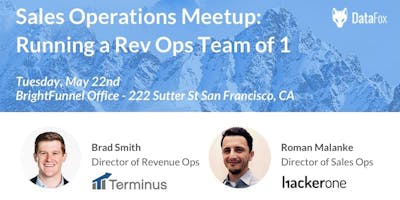 Sales Ops Meetup: Running a Rev Ops Team of 1
Your company has decided to invest in rev ops - whether the title reads sales, marketing, or revenue operations, if you are the sole member of the team, you are crucial to keeping the company running efficiently. 
So how do you prioritize the short list of projects dropped on your desk? Or how do you communicate the missing items to the executive team?  Who do you ask to help when you are the only operations team member?
Come learn how our featured experts have managed operations teams on their own. 
Speakers: 
Brad Smith - Director of Revenue Ops, Terminus
Roman Malanke - Director of Sales Operations, HackerOne
If there is something you are particularly interested in learning, feel free to send your questions to marketing@datafox.com. We'll do our best to include it in the panel discussion.
-YOU MUST BE REGISTERED TO ENTER- 
Location: BrightFunnel (222 Sutter St, San Francisco, CA 94108) 
Agenda:
6:00-6:30pm Check-In & Networking (refreshments included) 
6:30-6:50pm Panel
6:50-7pm Audience Q & A
7:00-8:00pm Networking
Hope to see you there!
DataFox