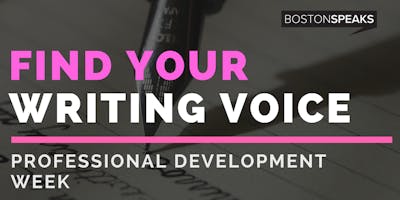 Finding Your Writing Voice & Writing for Success | Professional Development Week
Welcome to Professional Development Week! (Mon, 5/21-Fri, 5/25) Presented by BostonSpeaks
A free, five-day series of events connecting, educating and empowering Boston's business professionals. Whether you're a creative entrepreneur, a leader at a growing company, or someone pursuing a new passion, we have an event for you. (Check out the full schedule here)
Workshop Description:
This workshop is for people that need to write presentations and or talks to both internal and external stakeholders. 

Professional writing does not have to be dull and devoid of personality. Embrace your accent, background, and sense of humor and watch the audience connect with your writing and your presentations.
Who Is This Workshop For?
Professionals that write for a living and need to become more direct, persuasive and articulate.
What You'll Learn:


How to write in your authentic voice 


Writing for Succes 


Writing words that make people to take action


YOUR INSTRUCTOR - CATHERINE STORING
Catherine specializes in working with committed leaders & professional men and women who are willing & ready to serve others on a larger scale. However, they know they need the confidence, guidance, & tools to successfully embrace their authentic voice in order to write impactful & relevant content/books. 

Catherine struggled for twenty years to finish her first book until FINALLY in 2015 she finished her first book and she has not stopped writing. She is now the author of 15 books – several of them are best-selling books that are helping people develop more confidence and self-esteem all over the world. Catherine's books and writing empower others to embrace, celebrate and showcase their uniqueness, beauty and gifts. 

What differentiates Catherine from other Book Writing Coaches, writers, ghostwriters, and teachers is that she experienced the struggle herself. She is able to not only empathize with her students and clients but also she knows how to help them overcome their struggles in easy-to-follow and fun ways. Catherine believes that EVERY PERSON has a book inside of them and she can help them birth that book.

BostonSpeaks offers private coaching, group classes and corporate training to help individuals take their communication skills to the next level. Our mission is to equip individuals with the necessary skills, connections and mindset to become more successful in their professional career and life. Learn more at www.bostonspeaks.com