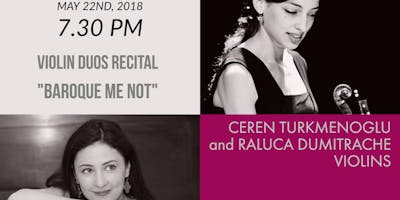 VIOLIN DUOS RECITAL "Baroque me Not"
This concert  will be featuring compositions from the baroque period as well as pieces with baroque elements in 20th century music.  Its a journey of baroque connection through time.

Program

J.P Telemann -Canonic Sonata for two Violins in G Minor
J.M Leclair - Sonata for two violin no.4
E. Ysaye Sonata for two violins in A minor.
Reception will follow.
Suggested donation: 15$